Top Career Statistical Returners

Junior Running Back Bryeton Gilford returns after rushing for 628 yards during his sophomore season. In 2017, Bryeton scored 17 touchdowns which already has him ranked #16 in Highlander History. Austin Winfield has 98 career tackles entering 2018 which leads all returning players. Sean Stavinoha returns with 5 career sacks and Malik Johnson in the top returning receiver.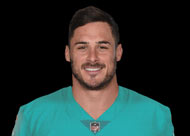 DANNY AMENDOLA - DETROIT LIONS
Danny Amendola, part of the 2003 Highlander team that reached the state championship game, is now in his 11th season in the NFL after helping the New England Patriots to Super Bowl wins in 2014 & 2016. In Super Bowl XLIX, Danny had 5 catches for 48 yds and a touchdown. In Super Bowl LI, he had 8 receptions for 78 yds and a touchdown. Danny has 485 career receptions for 4,684 career receiving yds and 20 touchdowns. His 21 receptions and 278 receiving yds in his 3 Super Bowl appearances are both 5th-best in Super Bowl history.
More